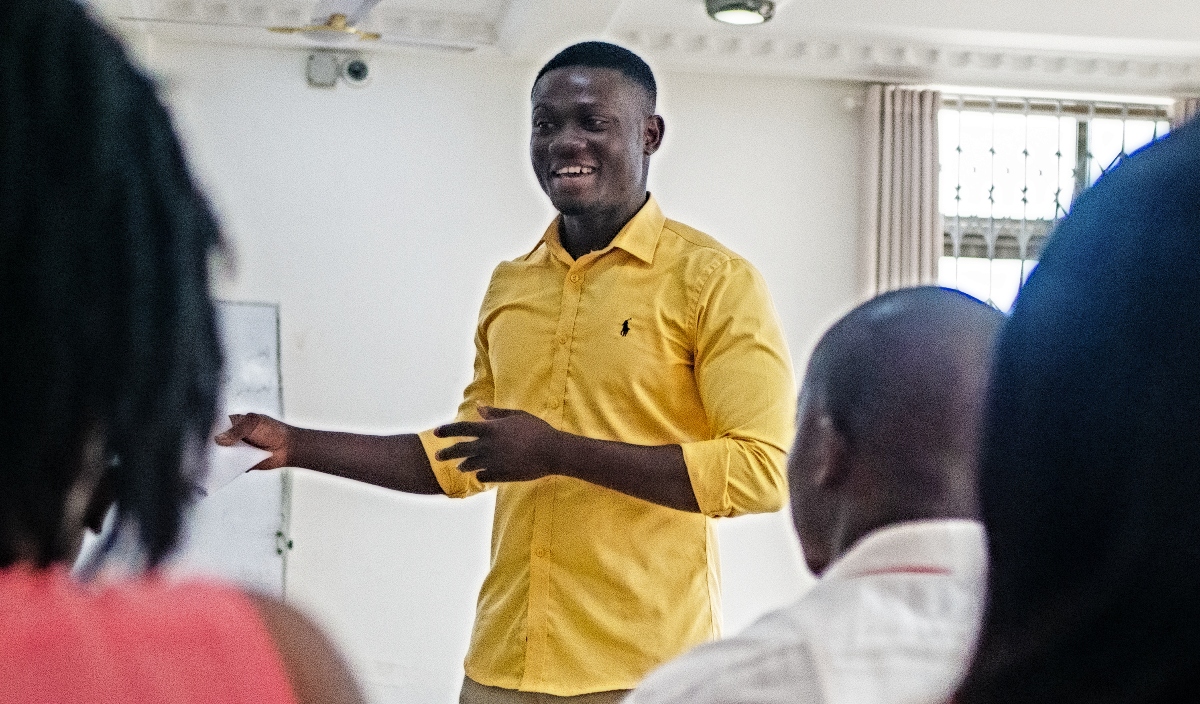 Photo: Samuel Agyapong speaking to students at a university in Ghana (before the pandemic)
Having been locked down in the same household with two university students and remotely interacted with many, I have experienced at first-hand the profound effect of the COVID-19 pandemic on students' lives and academic experiences.
For most students, the lock down period has been undoubtedly very stressful: limited access to online learning, loss of socialising, and uncertainty about examinations and how they will be conducted.
Students' academics and daily lives have been abruptly upended
The crisis has upended many aspects of 'normal' life of students in Ghana. With university and college campuses closed, students have been compelled to readjust their daily lives to lock down situations at home where they face new challenges and miss out on the daily experience of university life.
Welpuo Waris Samuel a 2nd year Doctor of Pharmacy student at the Kwame Nkrumah University of Science and Technology (KNUST) says:
"My parents see the lock down as an opportunity to get me and my siblings to support the family business. Instead of joining remote classes, I support the family business at home." 
Although Samuel enjoys helping his parents, he worries that he is losing out on valuable tuition which is necessary for his course.
Like Samuel, many students have been fully occupied by parents, partners, children, siblings, and other family members under lockdown. This has made balancing academic work and domestic duties very stressful and daunting.
My cousin - Valery Chelsie Brown, a 2nd year Hospitality Management student at KNUST – sums this up:
"Although I am home and supposed to be relaxed, this period has been very stressful with lots of school assignments and household chores. Honestly, I feel mentally burnout."
Florence a 3rd year student at the University of Cape Coast (UCC) also expressed worries about how studies and assessments are being conducted at her university. She noted:
"I and my colleagues are lacking important concepts related to our fields of studies due to not being able to read and understand the entire course materials shared on the school's portal all by ourselves. The lack of feedback from lecturers may have drastic impacts on our future."
She explained that their (she and her colleagues) situation has worsened since the management of the university  instructed lectures to stop all forms of online assessments. The entire student population (especially final year students) are uncertain about examinations and how they are conducted.
Further, the unexpected loss of socialising has significantly impacted students' lives.
"For most students' relationships are our strength, our support in the uncertainties of life, interacting with friends on campus is extremely important to our happiness so curtailing our social side goes right to the heart of who we are as students," says Philip Adu Gyamfi, a Physician Assistantship student.
For international students, the situation is particularly challenging.  The majority are stranded on campus due to lock down and travel restrictions. Without mentioning the financial and administrative uncertainties regarding the continuation of their studies, these students are currently socially isolated, lonely, helpless, and anxiously waiting for school activities to resume.  
The anxiety that comes with the loss of valuable tuition, multitasking, and loss of social contact and socialisation routines will inevitably affect students' mental health. This assertion is validated by Kant (2020) and Pragholapati (2020), both of whom concluded that the long weeks of isolation (lock down) is creating psychological and emotional problems among students. 
Additionally, a recent survey conducted during the last week of March 2020 among higher education students in the United States shows that 75% have said that they have experienced anxiety and depression as a result of the crisis.
The doors of learning are open, yet some students do not have access
With the ongoing spread of COVID-19, emergency remote learning (ERL) has become increasingly essential among Ghanaian universities. Yet, the transition to remote learning has not been seamless, nor fully inclusive.
Notwithstanding, one striking revelation from my interaction with the students was the fact that none of them had any form of orientation on online learning.
"Generally, universities assumed that students and faculty members are familiar with the processes, tools, and expectations of e-learning," said Mr. Fred Awaah, a lecturer at the university of professional studies, Ghana.
Recognizing the socio-economic and digital divide young people are experiencing some Ghanaian universities have quickly evolved their digital tools and platforms, offered free data bundles to their students and staff and relaxed assessment processes to ensure uninterrupted educational delivery to their isolated students.
Yet, the accessibility of these e-platforms are beyond the reach of many students due to expensive internet, poor connectivity, and electricity shortages.
In effect, the National Union of Ghana Students (NUGS) through a petition has called on the government to stop online learning in universities until a resolution between students and university authorities had been reached. The Union requested that universities should stop demanding fees from students seeking access to online learning platforms.
The Union also called on universities to refrain from conducting any examinations or assessments during the lockdown period.
"Conducting such exams and assessments would disadvantage the many students who, by no fault of their own, were unable to participate in the e-learning process," the union statement said.
Given the diverse nature of the transition from face-to-face to ERL, it is difficult to foresee what impacts the change may be on students. At the moment, the immediate effect has been the lack of access and delays in completing the academic year.  It will be necessary to closely monitor the evolution of this situation.
As universities prepares to resume, my major concern is about how students are going to adjust to the "new normal" having experienced substantial learning, assessment and socialization loss – all of which have a significant effect on students' performance and mental health.
As a young person with siblings at the university, I worry more because their entire performance depends on their mental health which has in a way been upended by the lockdown.
Looking ahead, what universities and policy makers should consider 
The Ghanaian higher education community should further their work to provide students support services, especially student's counselling and guidance services.
University administrators should consider using data and evidence to guide curriculum and instruction to support students: Accurate, valid, and reliable data can provide valuable information to determine where to focus resources and how best to help students academically.