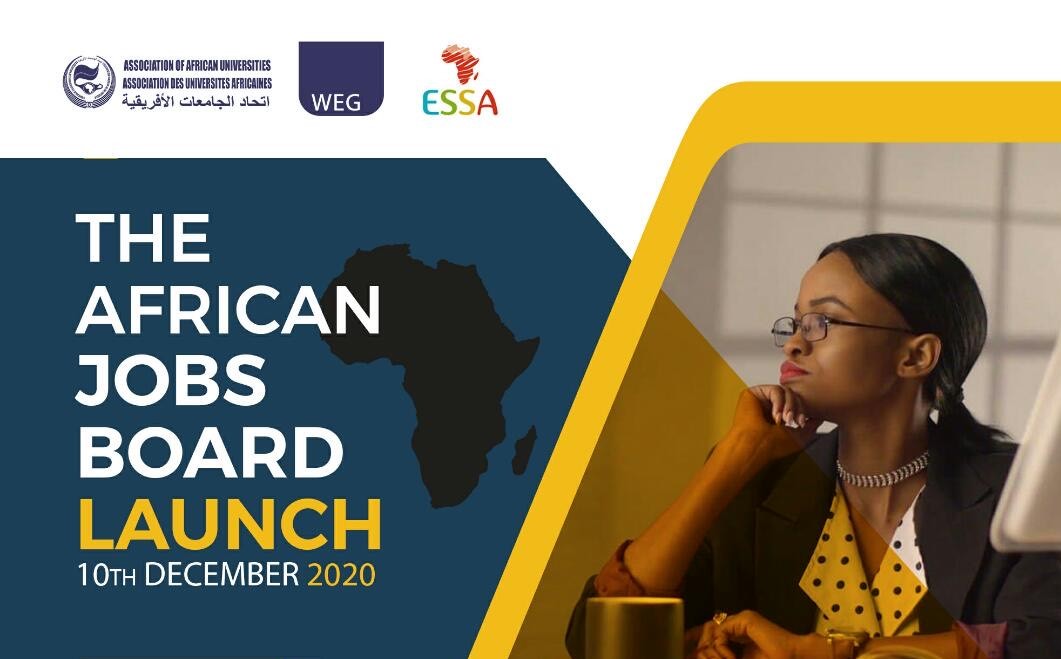 We have launched the Edujobs Africa, the first academic jobs board for the continent, in partnership with the Association of African Universities (AAU) and the Warwick Employment Group (WEG); part of the University of Warwick.
Edujobs Africa is an online website, hosting job vacancies in tertiary education in Africa; this includes academic staff roles and universities and higher education institutions across Africa. The site will support universities, colleges and governments in the region to retain academic talent within Africa, promote mobility between educational institutions across Africa and help job seekers in Africa find new opportunities in education. 
On the 10th December 2020, our e-launch brought together over 150 stakeholders in the education sector from over 8 countries: Egypt, Kenya, Nigeria, Uganda, Ethiopia, Tanzania, Zimbabwe and Ghana.
Moderated by Frank Asefuah of the AAU, the launch saw the participation of the Edujobs Africa consortium partners and other stakeholders in the education sector including Dr. Jennifer Udeh, Head of Programmes and Partnerships at ESSA, Matt Comley, Director at WEG and Prof. Etienne Ehile, Secretary General of the AAU.
Prof. Etienne Ehile highlighted the mutual desire between the project partners to see a transformed Africa and the strong working partnership:
"We believe we have laid a strong foundation and created a shared origin, vision, and commitment to work together to overcome the challenges faced in the African education sector."
He called for external stakeholders to support AAU, ESSA and WEG in improving the African higher education sector.
Dr. Jennifer Udeh highlighted ESSA's role over the past year in coordinating and driving the development of the platform. The project was conceived by ESSA to support universities and colleges in sub-Saharan to recruit and retain talent, and to support academic and education job seekers.
"We build influential partnerships at ESSA that ensure the success and sustainability of all our initiatives."
The Jobs Board offers the opportunity for universities, colleges, and other education institutions to promote their work and vacancies to a broad audience.
Matt Comley of WEG was excited about supporting in creating a similar model in Africa as the Warwick Employment Group have led in Europe with jobs.ac.uk. He said that the platform will not just be tailored for people seeking academic roles, but also professional roles in various fields in the education sector including marketing and finance. He encouraged users to share this opportunity with other universities and their networks.
Posting opportunities on Edujobs Africa is free of charge till the end of March 2021. We encourage education institutions to take advantage of the offers and discounts available during this launch period.
Share Edujobs Africa with your networks as we continue to work to improve higher education in Africa.
If you have questions about the jobs board, please find the contact details here.
---
For press inquiries, please email gemma@essa-africa.org