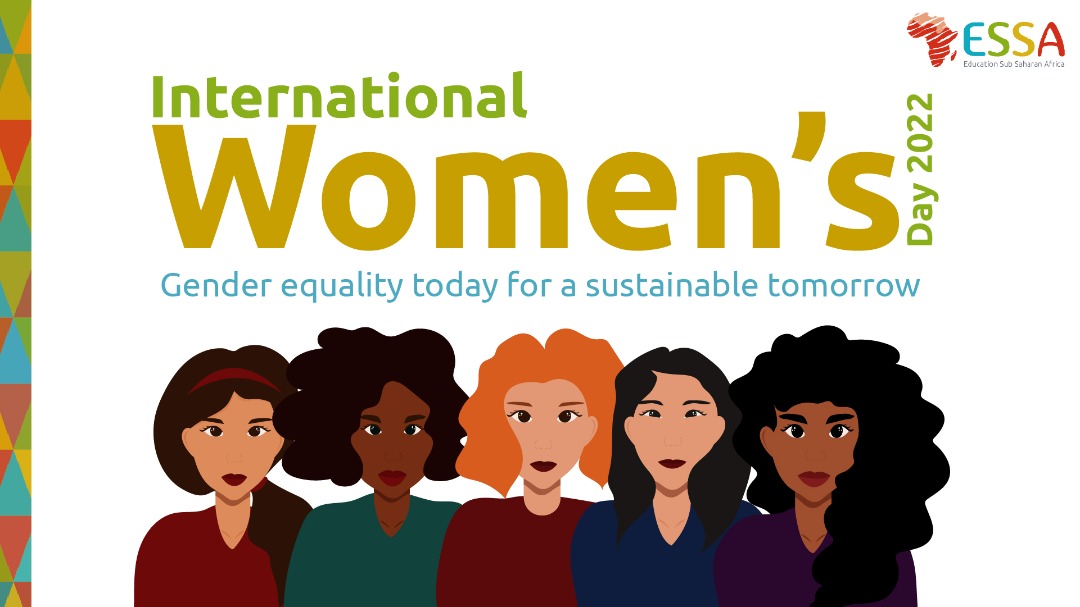 Education Sub Saharan Africa (ESSA) wishes you a happy International Women's Day.  
As the Head of Communications, I'd like to take this opportunity to express my gratitude to the women who make my work at ESSA so joyful and fulfilling. We rarely take the time to be grateful to our co-workers frequently enough. 
Because of the team effort, we continue to deliver on our goal of reaching over 1.4 million students in 500 universities and colleges in Ghana, Kenya, Uganda, and Zambia. I consider myself fortunate to be a member of this majority female team, led by Lucy Heady, the Chief Executive Officer, who has a proven track record of generating and using evidence to enhance higher learning. She leads our efforts to improve tertiary education in sub-Saharan Africa by working with governments, educators, employers, funders and young people. 
Additionally, we have diverse, resourceful, and incredibly intelligent women on our Board of Directors who advise me on ESSA's strategic direction. My appreciation to Dolika Banda who chairs the Zambia Consolidated Copper Mines – Investment Holdings Board; Nancy Matimu, Managing Director for MultiChoice Kenya; and Kendi Ntwiga, Country Director for Microsoft in Kenya. These brilliant professionals add variety, perspective, and rigour to our work, thus raising the prominence of ESSA.  
We also have a team of colleagues across the United Kingdom, Germany, Ghana and Kenya who support our research, especially in publications and partnerships. Amongst the team include Pauline Essah, our Director of Research and Insight; Jennifer Udeh, Head of Programmes and Partnerships; Krista Cecille Samson, Research and Communications Assistant; and Lisa Tichagwa, Monitoring, Evaluation, and Learning Assistant. These dedicated women are working assiduously to revolutionise tertiary education in sub-Saharan Africa. 
My appreciation also goes to our outstanding Financial and Operations team including Clare Jenkins, our Director of Finance, Operations, and Human Resource; Clare James-Roll, Human Resource and Operations Manager; Justine Marks, Finance and Administration Assistant; and Charlotte Spear, Bid Writer. These women are fantastic in building and maintaining our relationship with partners, funders, and decision-makers. 
In the team and on the Board, we have men at ESSA who are just as amazing in their work. But I wonder how their work lives would differ without the significant role women play in the organisation daily. Our encouragement, empathy, inspiration, and support motivate us to do more to champion young people's education. 
I am thankful for the strong women in my life, particularly my mother, who motivates me to strive for excellence in all areas, including education, career, family, and community involvement. If it hadn't been for female school educators, I would not have had success in my education. If it hadn't been for Sara Ruto, Chief Administrative Secretary at Kenya's Ministry of Education, I would not have ventured into the field of communications and advocacy. From when I was an intern until now in my role at ESSA, she has been a polished, powerful, and encouraging lady who has supported me throughout my career. 
We owe our success to the men and many women. On International Women's Day, let's take a moment to reflect and thank all the women who have helped us in some way. Consider individuals who have mentored you, with whom you collaborate, and on whom you rely. Are you doing enough to show your gratitude? Are you doing enough to show them how much you care? Do you advocate for women in your community to ensure that they have the same opportunities as men?  
Last year's ESSA State of Women Leading Report revealed that women have the passion, ambition, and talents to achieve, but they are confronted with several obstacles. This is something that must change. ESSA is shifting the narrative for women by accumulating evidence of the hurdles associated with increasing women's representation in higher education and beyond. We collect and disseminate this information and engage with partners to design effective programmes based on the evidence. 
Beyond International Women's Day, we can do better. We must continue to break the bias to make the world a better place. I challenge you to consider where you would be today if not for the powerful women in your life. Show gratitude to all women in your life, as I did.