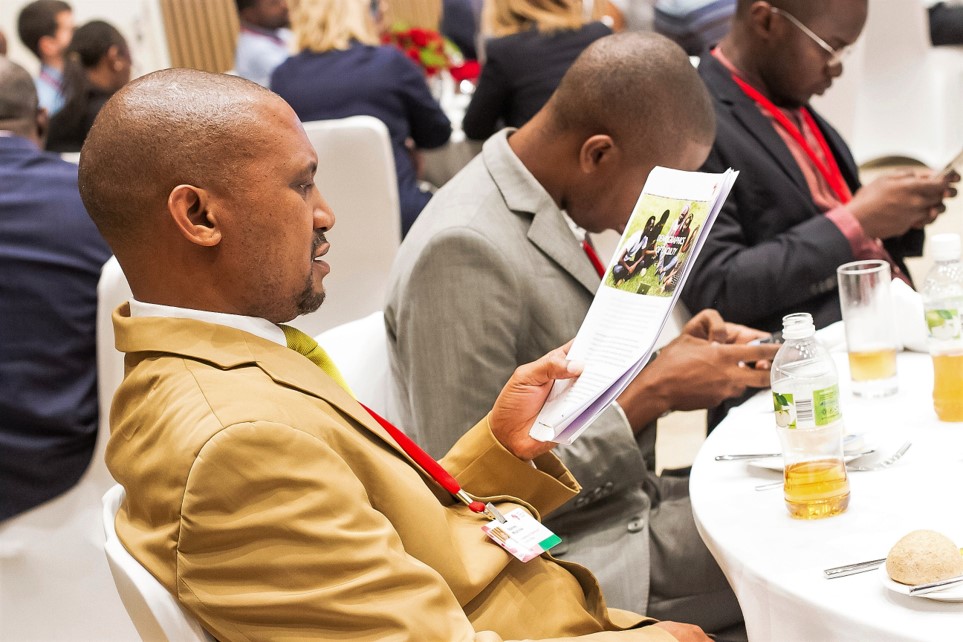 Sub-Saharan Africa needs a strong data ecosystem devoted to the academic environment to help transform higher education in a sustainable manner, according to education experts.
Speaking during an event organised by Education Sub-Saharan Africa (ESSA) on the sidelines of the Next Einstein Forum in Kigali from 26-28 March, the experts drawn from academia, the private sector and the government said the availability and accessibility of real time data would help the region realise the fourth goal of the United Nations' sustainable development agenda.
The event brought together over 300 delegates from all over Africa to share knowledge and experience on how to improve higher education in Sub-Saharan Africa through data-based decisions. 
Sub-Saharan Africa, they said, has inadequate data on student enrolment numbers and student or lecturer specialties for instance, which makes it difficult for policy makers and development stakeholders to make the necessary interventions to improve higher education.
Given the rapid growth in higher education enrolment, they said, African governments and universities needed to ensure there was sufficient faculty with relevant expertise, particularly in the areas of science, technology, engineering and mathematics.
However, there are currently no comprehensive national or regional data systems that model the anticipated growth and faculty needs, or inform training and development plans at a systems level.
Data gaps regarding scholarships were also highlighted as one of the key bottlenecks to sourcing funding for higher education in Sub-Saharan Africa. 
Uta-Micaela Dürig, deputy chairperson of ESSA's board of management, said investments and funding such as scholarships are relatively low in Africa and there is insufficient data on the existing scholarships. Dürig added that there is need to increase efforts to collect data that can be accessed by institutions of higher learning in Africa to help in decision-making.
"How can you reach the right people for scholarships without data on the scholarship ecosystem?" asked Dr Olaf Hahn, founding director of ESSA. Hahn told the meeting that scholarships could help the continent achieve sustainable development goal number four. 
Patrick Dunne, who chairs the board of ESSA, said inadequate data and lack of data in some instances hamper the growth of higher education. The collection of data could be a game changer with regard to creating centres of excellence and improving the quality of education in Sub-Saharan Africa's institutions of higher learning.
He also said it is difficult to access data on critical areas in higher education such as top research. 
ESSA's pilot study on demographics of faculty data was presented by Jonathan Mba, director of research and academic planning at the Association of African Universities. According to the findings of the study done in Kenya, 6% of young people are enrolled in higher education compared to the global average of 26%. 
The study also revealed that the private sector in higher education in Kenya is growing rapidly, with 81 privately owned universities and 10 state universities. 
Mba revealed that the demographics of faculty study will be expanded to the rest of Sub-Saharan Africa to collect data that can help in the management of faculty resources.
"The demand for higher education is likely to increase massively in Africa and we need reliable data to plan for this," said Rwanda's Minister of Education, Dr Eugene Mutimura. Speaking in support of ESSA's initiative to collect data, Mutimura said that many universities such as the University of Rwanda were ready to participate in the initiative. 
Describing the ESSA initiative as "long-term thinking", the minister urged Sub-Saharan African governments to increase investments in support of primary and secondary education which are the key pillars to a robust higher education sector.
In an interview with University World News, Professor Mohammed Salifu, the executive secretary of the National Council for Tertiary Education in Ghana said better use of data could help to improve institutional management, especially when it came to planning faculty recruitment and retention. "We need to be proactive by having preset targets to determine our work at universities," said Salifu.
Story first published by University World News.