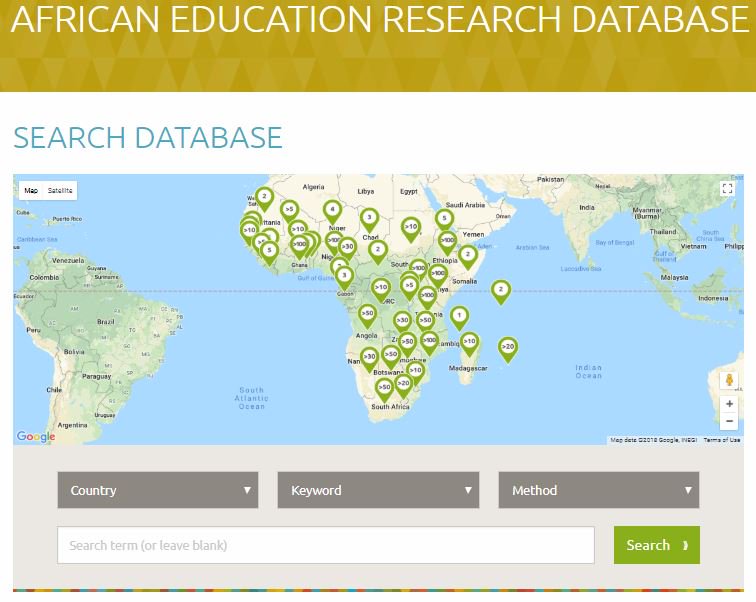 Photo: ESSA
A first-of-its-kind open access database has been launched to raise the visibility of African education research, consolidate the evidence base for policy and practice, and inform future research priorities and partnerships.
Launched on 15 June, the database is an initiative of Education Sub-Saharan Africa (ESSA) in collaboration with the United Kingdom's Research for Equitable Access and Learning (REAL) Centre at the University of Cambridge.
Known as the African Education Research Database (AERD), the online education database currently curates a collection of over 2,000 studies from 49 countries in Sub-Saharan Africa, which is the first of its kind open access database of education research by researchers based in Sub-Saharan Africa.
According to a report from ESSA, the database pools research undertaken over the past decade and includes social science research, with implications for educational policy and practice.
The database contains a collection of peer-reviewed articles, chapters, PhD theses and working papers identified through structured searches of academic and grey literature databases, expert consultation, and pearl-growing techniques, a search and retrieval method used by librarians.
Disparities
A research report authored by Professor Pauline Rose and Dr Rafael Mitchell from the REAL Centre identified several education disparities that hinder sustainable development in Sub-Saharan Africa, prompting the development of the database.
These disparities include gaps in learning between rich and poor, and limited learning in the early grades which influences access to higher levels of education, especially to universities, thereby creating an intergenerational cycle of disadvantage.
Additionally, the authors found that access and learning outcomes vary widely within and between countries, suggesting that good practice is not being identified or shared, and that there is ineffective and inadequate use of research to inform policy.
Research included in the database shows that annual research outputs from Sub-Saharan African institutions have steadily increased over the past 20 years. With South Africa leading, the top 10 countries with most research output in the database include Nigeria, Mozambique, Kenya, Ghana, Uganda, Tanzania, Botswana, Ethiopia, Zimbabwe and Angola.
A statement to University World News from the REAL Centre, said that preliminary analysis indicates that a large amount of research is on higher education (around 30% of the publications) yet, in sub-Saharan Africa, fewer than 1% of the poorest actually access higher education institutions.
On the other hand, only around 3% of research is on early childhood education. "This suggests that limited evidence is available that can inform policymakers on how to address disadvantage in education from the early years," explains the report.
"The database is important for raising the visibility of research written by African-based researchers. There is a lot of important work by researchers in the region which is currently overlooked and undervalued," said Mitchell.
Mitchell said the database will facilitate greater use of research – through citations and use in policy and practice – produced in African universities. It should also help to ensure that research by African researchers is more visible in global debates, he said.
According to ESSA, the database also plays an important role in the context of the global priorities and targets expressed in the United Nations Agenda 2030 on Sustainable Development Goal (SDG) Four that aims to ensure inclusive and quality education for all and the African Union's Agenda 2063 and continental education strategy for Africa.
Rose said that African-based researchers are undertaking research on a range of topics of relevance to their own countries' policy and practice, which could inform progress towards the SDGs.
However, she noted that this research is often not given the attention it deserves.
"Hopefully the database will make it more easily accessible, and change this," Rose told University World News.
First stop for education researchers
"We hope the database will be the first destination for anyone planning to conduct research in education in Sub-Saharan Africa. Reviewing the existing knowledge base is a necessary first step to find out what has been conducted already," said the REAL Centre's Samuel Asare.
Asare and Mitchell said the current practice of conducting costly, resource-intensive research which was then not easily accessible or visible could be a threat to the sustainability of the database.
However, ESSA director, Olaf Hahn, said the cooperative approach of the REAL Centre and ESSA would help to address this concern. It was envisaged that the initiative would partner with institutions in Africa around issues of funding, publishing and mechanisms for submission of research.
---
First published in University News World.