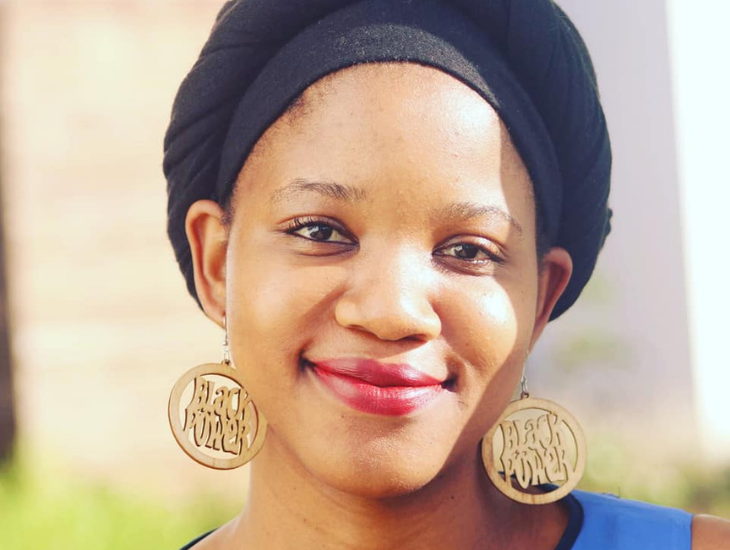 Before we delve into tHINGS, can you tell me a bit about yourself? 
I'm One Pusumane from Botswana. I finished my MPhil degree in African studies at the University of Cambridge and I will be transitioning to Scotland to start my PhD in African studies. My research is based on the intersections of human rights, trafficking, and urbanisation in Nigeria.
"I chose to work on human trafficking issues to explore the precarity inscribed by gender, mobility, and spaces." 
You have had an amazing journey through scholarships. Were there any barriers you had to overcome to get to this point? 
Oh, most definitely there were. My first scholarship was the Gray Orbis Foundation scholarship, where I had to study the A-levels at Maru a Pula School in Gaborone, Botswana. The transition from public school to a private one was really intimidating given the different contexts and expectations of the space. I don't do so bad and the 2 years' experience with the foundation sparked my interest in leadership and community work. So my second scholarship to study at the African Leadership University (ALU) felt more like a natural second step post-A-Levels and space for me to explore the kind of work I wanted to do. ALU was interesting.
"I  was drawn to the University's concept of engaging youth leadership and providing them with the necessary skills to change the problems they see within communities."
After ALU, I got a scholarship to study at the University of Cambridge. I think the main barriers for me have always been the finance to pay for education but I overcame that by being intentional about my work and investing in developing different skills. Perhaps, more importantly, I would say taking your work seriously- I tend to have like 6-7 drafts of any work I do before sharing and I make sure I give it my best! That way I do not regret opportunities that did not work out. 
do you feel SOMETHING could have been done better to equip young women with leadersHIP SILLS? 
ALU's structure is male dominating and it stresses heavily on entrepreneurship. It's a good thing but not everyone can do it. Personally, the entrepreneurship idea didn't appeal to me. My passion lies in grassroots work and connecting with communities, hence my love for grassroots activism as well. Issues of access and gendered social expectations impact the type of entrepreneurship that one can pursue.
"One of the projects that I did focused on sexual harassment and you could see there was a lot of pushback in the ways in which we were talking about it. We need to start talking about those things and the intersection of gender and entrepreneurship."
Who is seen to be a leader and by who? Who leads who?  If "African" leadership is hyper politicised as the solution to the continent's problems, we fall into the trap of the developmental discourse that has positioned leadership as the main issue. This curtails a nuanced discussion around legacies and undertones that dovetail the current leadership on the continent. There is a need for critical engagement with what is framed as leadership and "African leadership" for that matter. 
I'm glad we're having this conversation. It's important for universities and course content to be gender aware.  
Oh yes, I mean when you put students from over 43 countries together, we'll have different cultures and engage differently. It's fine teaching all the students how to be entrepreneurs, but if you are a female student, people back home will be asking when you are getting married. Women are expected to have a job that does not take you away from your home. So contextually, learning how to go back to engage that kind of community as a woman would have been a useful skill but more so, the ways in which we could engage. You leave a community and come back with all these great ideas but context is really important.  
ARE scholarships a good way to improve student's access? how might more students who need scholarships access them? 
My grandparents didn't have money as my caretakers, so I needed to be working towards scholarships through research and doing all that was required. The institutions providing the scholarships need to do more in thinking about how they can access people. For example, by partnering with organizations to reach students in villages who don't have access to information. If we were being critical, the very people that these scholarship foundations tend to target are not the ones who get the funds. Class is profound as it inscribes meanings to experiences. If you think of it, who has data to be searching for scholarships and having the know-how of applying, the language to use, and all the checkboxes?
"Without being intentional about these scholarship selections, institutions are just raising and equipping a middle class that returns to the continent as "educated African leaders" and who will they lead?"
Are the problems they are solving a reflection of the issues on the ground or are they attending to the Africa that is presented as ahistorical and mute? 
In your journey, haS there been any leadership skills you would like to develop? 
I think for me it would be empathy and active listening. Travelling abroad and entering university has helped me with that, but I would like to build it more.  
how HAS COVID-19 affected your studies at the University of Cambridge? Has it had any impact on you? 
COVID-19 cut my time in Cambridge short. Everyone had to go home but I couldn't because the airports were closed, and all my friends had left. I was really looking forward to the summer and enjoying reading at the library. I was also concerned about the rising domestic violence, caused by people being stuck at home. But I enjoyed my time at Cambridge, I checked in with my friends as much as I could online, and just kept safe.  And I try to be involved in some activism work through our organisation FeminStyle Africa, which centers and amplifies the stories and experiences of African women both in the continent and diaspora. We offer sisterhood without judgment and our approach is intersectional 
We are all hoping things really start to improve now. Finally, what's next in your journey? 
Next, I want to do my Ph.D. and focus on producing a few articles. I am keen on continuing on with the activism. I also want to work with young women and a few organisations back home.
"A bottom-up approach in communities is the best way to solve problems like gender inequality and access to education. We tend to 'theorise' and banter over the people most affected by the issues with lived experiences."
---
This interview is part of our series of interviews with female leaders in education for International Women's Day 2021.  
Find out more about ESSA's work using evidence to improve female leadership in education here.