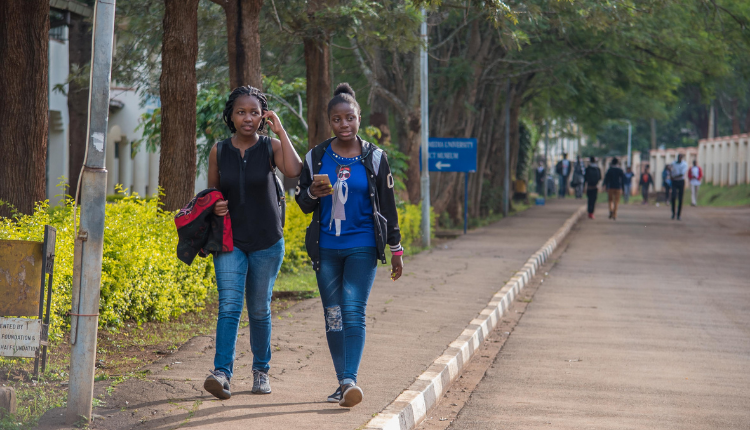 Gender gaps in universities and colleges have been widespread globally, raising conversations on how we can address the higher education gender gap.
1. Introduction 
Gender equality promotes sustainable development. The Agenda 2030 and Africa Union's Agenda 2063 both highlight the importance of this mission. There has been progress in bridging the gender gap,1 particularly in education. For instance, women's enrolment in universities and colleges globally increased by 9% from 2011 to 2020  (UNESCO Institute for Statistics (UIS), 2020).  However, huge gaps still exist particularly in sub-Saharan Africa (SSA).
A study by Education Sub-Saharan Africa (ESSA) on higher education staff and academics in Ghana shows that only 8% of professors at public universities are women across the country. Only 24% of academic staff in tertiary education across sub-Saharan Africa are female (UNESCO, 2019).  The African Evidence Research Database, profiling African-led research, also shows that out of 2510 researchers in the database, only 32% are female.  
According to a 2018 World Bank report, private returns to overall education are much higher for women (12%) than men (10%). In post-secondary education, returns to education are higher for women (17%) than men (15%).  The higher returns to education do not imply higher earnings for women, but that education is a good investment for women and girls and needs to be prioritised. The region is losing huge gains by underinvesting in women in universities and colleges. This blog aims to provide insights to academics and policymakers to help reduce the gender gap. 
1.2 Access to University and College 
The majority of existing literature on education and gender focuses on primary and secondary school education. The smaller amount of existing data about universities and colleges shows the huge gender gap. Currently, 7.19% of women are enrolled in universities and colleges in sub-Saharan Africa compared to the 10.41% of men enrolled. This is low compared to the global average for women, which is 41.66%. 
1.3 Subject Choice  
There are significant gender differences in university and college courses. Although this varies regionally, there is a tendency for women to be underrepresented in Science, Engineering, Technology, and Mathematics (STEM). This is despite evidence showing that STEM courses benefit women the most. Women's participation in STEM can reduce gender gaps in the job market and the overall gender gap in society (Sahoo and Klasen, 2018). In sub-Saharan Africa, women are less likely to select STEM courses as compared to non‐technical courses (humanities and arts) due to discriminatory barriers, as opposed to their preference (Elu and Price, 2017). Cultural gender stereotypes in and outside of education dictate course choices for students. (Booysen and Nkomo, 2010).  
Views such as women's nature to give birth and have care responsibilities act as barriers to women's participation in STEM courses. The direct and indirect costs for studying technical courses are much higher, compared to non-technical courses. Due to the high son preference in most African societies,  families might invest more in supporting boys to enroll on technical courses, than girls. Therefore, the high cost of tertiary education could act as a disincentive for low-income families to enroll girls in technical courses (Sahoo and Klasen, 2018).  
2. the Impact of this Gender Gap
The underrepresentation of women in university and college has several implications: 
Unfulfilled potential: Women's underrepresentation means they will not realize their full potential. If women are not progressing to reach their full academic potential, the economic return on investment to ensure women have access to further education will not be achieved in SSA. Therefore, this waste of valuable resources can have negative impacts on women's personal development and broader, economic and social development in Africa.  

Gendered occupational segregation: Universities and Colleges are places where the most highly skilled and knowledgeable workforce is trained. Therefore, gender gaps in specific courses can potentially affect the pool of professionals and leaders in the job market, hence maintaining the current gender gap if not worsening. 

Economic inequality: Lower levels of education for women implies low representation of women in the job market. Evidence shows that private returns to post-secondary education are 15%, which is 5% above the returns to overall education (World Bank, 2018). Low levels of education for women, mean they are less likely to compete for positions with men and more likely to earn less, hence increasing income inequality.  

Lack of role models: Female role models in traditionally male-dominated positions inspire women, and combat gender discrimination and sex segregation in their communities. This has been referred to as the "role model effect." Evidence shows that women who have access to relatable role models are more likely to prosper in academia, compared to those who lack access to them (Kaziboni & Uys, 2015). The gender differences in course choice promote gender stereotypes about suitable courses for men and women.  
3. Policy implications 
Low-cost policy solutions exist, such as promoting mentorship and relatable role models to increase women's participation in courses such as science and technology, where there are high private returns. These solutions need to be prioritised.  
Secondly, policy options such as promoting research on gender issues, increasing university and college enrolment for women through affirmative actions, increasing leadership skills development for women in universities and colleges, gender-sensitive school curriculum, and providing stipends and scholarships for girls and women, need to be expanded to bridge the gender gap.  
Lastly, there is a lack of evidence about the role of universities and colleges in equipping women with leadership skills and opportunities. At ESSA we aim to address this evidence gap through our Women Leading project; supporting universities and colleges to champion female leadership. 
 
References

Booysen, L. A., & Nkomo, S. M. (2010). Gender role stereotypes and requisite management characteristics. Gender in Management: An international journal. 

Elu, J. U., & Price, G. N. (2017). Science labor supply in Sub‐Saharan Africa: Is there a gender disparity in preferences? African Development Review, 29(3), 367–375.  

Kaziboni, A., & Uys, T. (2015). The selection of academic role models by first year University students. Journal of Sociology and Social Anthropology, 6(1), 77-86. 

Sahoo, S., & Klasen, S. (2018). Gender segregation in education and its implications for labour market outcomes: Evidence from India. IZA Discussion Paper No. 11660.  

UNESCO (2020). A new generation: 25 years of efforts for gender equality in education. Global Education Monitoring Report.  

World Bank (2018). Returns to Investment in Education: A Decennial Review of the Global Literature. Policy Research Working Paper No. 8402.  

World Economic Forum (2020). Global Gender Gap Report 2020. Geneva.